Jo'burg-based Blues Rock band, Gunshot Blue, have released their much-anticipated debut full-length album "Until The Last Prayer". The album is available on digital release now and on CD in all good music stores nationwide.
"Gunshot Blue are a breath of fresh air to a genre overridden with soulless showboats. Pepi's guitar tone and playing is raw and real and he gets the job done without taking away from the songs and Frans vocals and melody choices compliment his warm demeanour onstage. Gunshot Blue are proof that the blues still has legs to evolve and doesn't need to be put on the shelf as a legacy genre." – Gareth Wilson (SGQ front man/Oppikoppi local talent buyer)
Recorded, produced, mixed and mastered by Tom Hughes, the 10-track album draws you in from intro track "She", and flows through a collection of sonic highlights such as tracks "Hit Me Up", current single "New Horison", "In The Cave", moody track "These Hands", and ending with the energetic riff driven "Neon Love". "Until The Last Prayer" is a Blues Rock journey to get lost in from start to end, hypnotized by Borman's raw emotional vocal delivery, nestled in a musical heaven of great musicianship from Gunshot Blue.
"I cannot wait to hear Gunshot Blue's long-awaited debut album. When it comes to roots music, these guys are the real deal. The authentic slide guitar work of Pepi Dimevski, combined with Frans Karoo's distinctive vocals and their solid rhythm section, gives them a unique and lovely sound." – Cito (WONDERboom)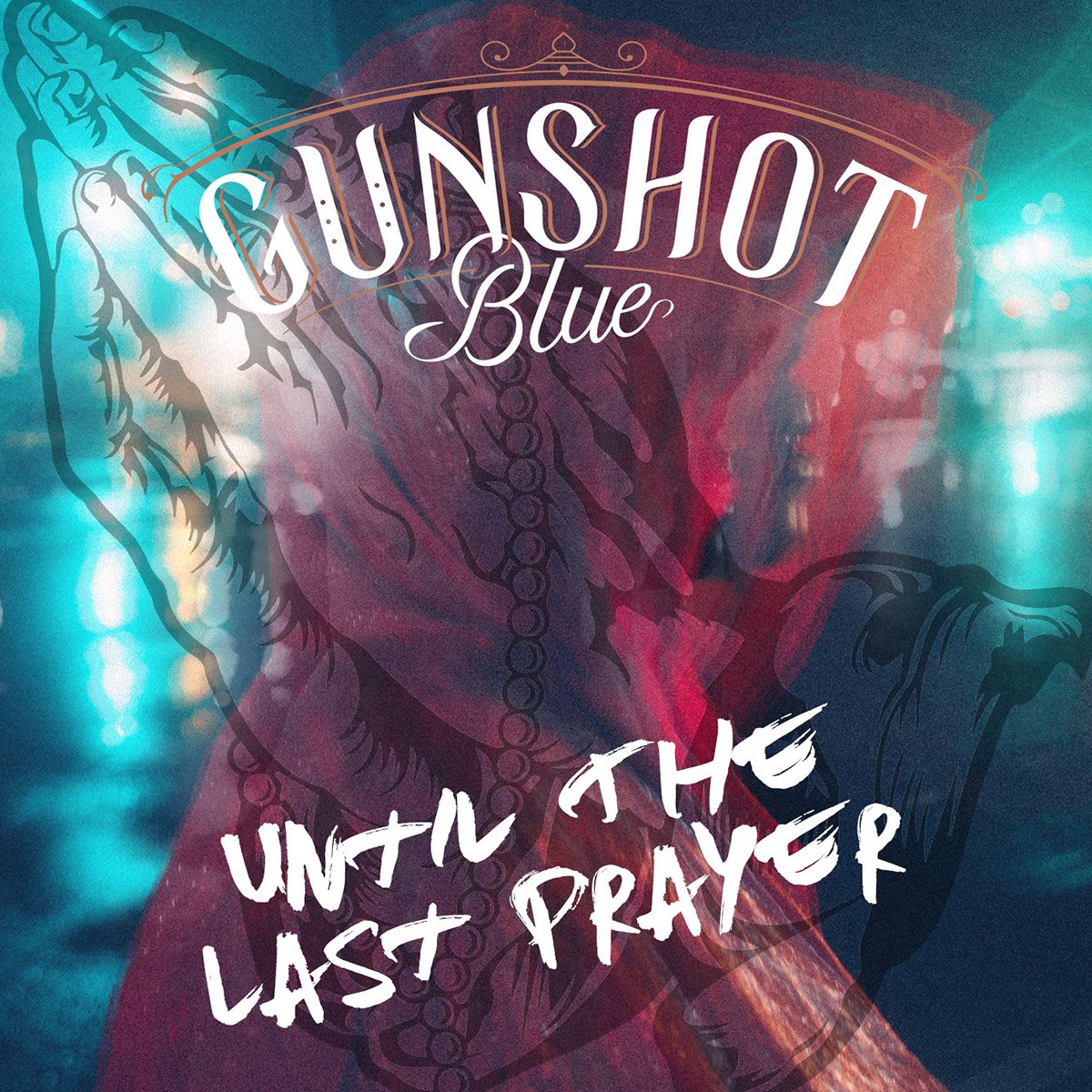 Titling their debut album "Until The Last Prayer", Borman explains how the title and theme came about, saying: "One evening, while Pepi and I had a catch up over a glass of whiskey, we were talking about orthodox philosophy. Now, both of us are quite intrigued by monks and elders, who dedicate and sanctify their lives to a monastic lifestyle living in remote places like caves/ islands or the desert. We spoke about this legend where, in the story, God spared/saved the world of destruction thanks to one elder/monk who kept on praying. In other words, if there are no more prayers – whatever prayer may be for you – maybe then we won't have a world like we know it anymore." He continues saying "So, in a sense, the album with all its different stories is about prayer. Prayer not in a religious sense. Prayer in an energetic, spiritual, quantum sense. Whether you are burning incense, whether you are lighting a candle, whether you are living a moral. pure and sacred life. Whether you are setting an intention. Whether you are meditating. Whether you give away and look after others." 
Frans Borman gives great insight into the theme and inspiration behind each single on the album:
She. Inspired by a North American Indian proverb believed to spring from the mouth of Obomsawin, an abenaki

from the Odanak reserve, seventy odd miles northeast of Montreal:

"When the last tree is cut, the last river poisoned, and the last fish dead, we will discover that we can't eat money…"
Woods. Deep in the mythological woods of our collective unconscious

we run from and to our nightmares. Fear holds us

prisoner

. As our eyes get used to the dark, omens may set us free.
Hit Me Up. Some gurus say that reality as we perceive it,

is only 1% of what is actually out there. When you start exploring the inner worlds by looking at your dreams or simply being still; what the gurus say start to resonate within.
New Horison. The christian

mystics spoke of "The dark night of the soul". In solitude is born a story of returning home with a

new found

tenderness and endearment for family, strangers, friends, ancestors and loved ones.
Knocking. Does the spinning dog ever catch its own tail? The all-consuming mouth of consumerism will eat you alive. You're either in a rush or looking for a rush. How do we escape the wheel of Karma? The zen buddhists, the sufi's, and the prophet Mohammad in the sacred text of the hadith, all encourage us to die before we die.  
In The Cave. The fool from the tarot embarks on

an adventure – the hero's journey. A story of alchemy.
Strong Wind. Inspired by the story of Saul who became Paul with his damascus experience.
The Call. Some are baptised with water. Some are baptised with fire.
These Hands. Inspired by the story of Albert and Albrecht Dürer: The legend of the famous praying hands.
Neon Love. Inspired by "Chunkung Express", the 1994 Hong Kong drama film written and directed by Wong Kar-wai.
"Gunshot Blue – Until The Last Prayer" is available on CD and online now from https://africori.ffm.to/gunshotblue_utlp
Gunshot Blue's national album launch "Until The Last Tour" kicks off Sunday, 3 March, in Johannesburg. More details to follow via the band's social media pages.